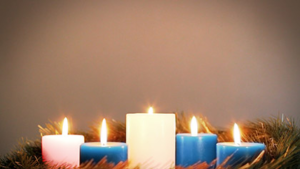 Happy Advent! While that may not be a common greeting during the winter, this season from after Thanksgiving to Christmas Eve is called Advent.
"Advent" means the arrival of an important guest. We aren't waiting for Jesus to be born, because he was born almost 2,000 years ago! As we celebrate that birth of Jesus, we use this season of Advent to slow down, to focus our eyes on
Jesus, to focus our eyes on the manger in Bethlehem where Jesus was born.
Advent is a season of waiting. We wait for Christmas morning when we celebrate the birth of Jesus! We wait for Jesus to come again in glory, to take us to be with him in heaven. While we wait for Christmas, we take time to slow down, to rest, to go against the hustle and bustle, the commercialization of Christmas, and seek the peace that only God can give.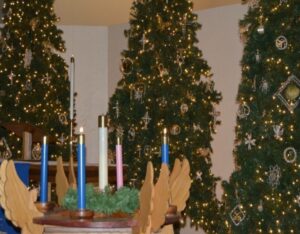 One of the main ways that we celebrate Advent, and a way that you can celebrate Advent at home during this season, is by lighting an Advent wreath, which you will see at the front of the church during Advent! An Advent wreath is a wreath, with 4 or 5 candles. The 4 candles have specific meanings. The first two candles, which are blue or purple, stand for hope and peace.
Hope
and
peace
are two of the main components of Advent. As we wait for the coming of Jesus, as we wait for Christmas, we wait with
hope
! We wait knowing that Jesus has come into this world, and through His life, he saved us from our sins. The hope that we have is that it isn't on our doing, but what Christ did coming into this world, as a gift from God, as we read in Ephesians 2:8-9, "For it is by grace you have been saved, through faith—and this is not from yourselves, it is the gift of God—not by works, so that no one can boast."
That leads into the peace that we have. The peace that surpasses all understanding. In our hectic world, the time that we spend waiting for Jesus, is a peaceful time. In the midst of the craziness of the Christmas season, Advent is a time where we can slow down, wait, and find peace in Christ. This is the peace that Jesus only can give, not the world, as he said in John 14:27, "Peace I leave with you; my peace I give you. I do not give to you as the world gives. Do not let your hearts be troubled and do not be afraid."
The third candle, is pink. That candle sticks out because it is the candle for joy! As we celebrate the coming of Christ into the world, that is a joyful occasion! Jesus being born as a baby changes everything! This means that what God promised to do, save the world, has happened. Jesus is the fulfillment of many prophecies, but the first one being in Genesis 3:14-15, "So the Lord God said to the serpent…'I will put enmity between you and the woman, and between your offspring and hers; he will crush your head, and you will strike his heel.'" That promise of a Savior is fulfilled in the joy-filled moment of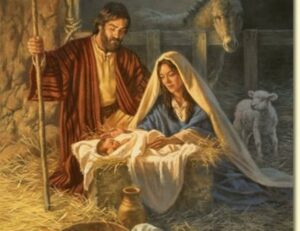 Finally, the last candle, which is blue or purple, stands for
love
. None of this, Advent, Christmas, Jesus coming into the world, would be possible without God's
love
for us. In John 3:16, we read, "For God so
loved
the world that he gave his one and only son, that whoever believes in him shall not perish but have eternal life." That
love
is what brought Jesus to the earth. That
love
is what we celebrate during Advent.
If your Advent wreath has a 5th candle, it is usually white, and that candle stands for Jesus. That candle is lit on Christmas, to signify the culmination of Advent, the culmination of hope, peace, joy, and love, in the birth of Jesus!
One of the best ways to celebrate Advent is to use an Advent wreath, and couple that with our Advent devotion book. We had many members write devotions for the whole season of Advent. A great way to do this is before or after a meal, light the candle(s), and then read the devotion, and pray together as a family. This is a great way to focus the Advent season on the true reason for the season, Jesus.
If you don't have an Advent wreath, but would like one, you can find them here:
I pray that this Advent season, you may find time to slow down, step back from the craziness of the hustle and bustle of the Christmas season, and find that hope, peace, joy, and love, all from Jesus this season! God's blessings as we wait for Jesus this Advent season!
Pastor Chris <><