Our Savior Memorial Garden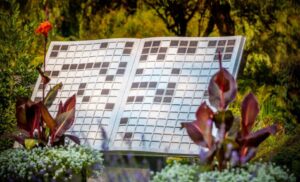 Christians have long since marked hallowed grounds (often near a church) as a resting place for the earthly remains of believers, awaiting the Day of Resurrection. They are places of peace, love, and faith, filled with anticipation of a future reunion.
What are the details of the Memorial Garden?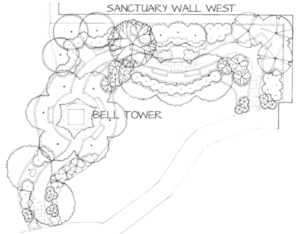 Located between the bell tower and west wall of the sanctuary, the Memorial Garden is a place for personal reflection, prayer and meditation. The committal area is for the burial of ashes from Our Savior Lutheran Church members, their families and Christian friends of Our Savior Lutheran Church as determined by the Senior Pastor. Cremains are placed in an unmarked location during a committal service conducted by a pastor of Our Savior Lutheran Church. The cremains become a permanent part of the Memorial Garden soil. (If desired, an authorized, biodegradable container, may be used to bury the cremains.)
The name, date of birth and date of death, will be put on a special Memorial Garden display. Additional personal information, a picture, a Bible verse and a "Walk of Life" remembrance may be added to a digital Memorial Garden registry website, maintained by the church. No individual markers or remembrances will be placed in the garden.
How is the Memorial Garden Funded?
Funding for the development and maintenance of the Our Savior Lutheran Memorial Garden will be provided through gifts and donations designated for this project. Individuals and groups will have the opportunity to donate to the Memorial Garden Fund for purchase of items selected for the creation of the Memorial Garden. Ongoing memorials, donations, and fees directed to the Memorial Garden, will help offset the cost of future maintenance.
Donation Guide
Book of Life – approx. $16,500
5 Benches – approx. $500 each
21 Trees – approx. $250-$500 each
125 Shrubs – approx. $50 each
1,043 Groundcover plants – approx. $10 each
800 Square feet of pavers – approx. $15 each
Construction & Maintenance Cost – approx. $12,500