Christ Connections!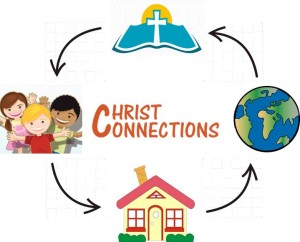 Our Sunday morning children's education hour equips youth to
LEARN
about Jesus through Bible-based instruction, inspires them to
LIVE
their faith in words and actions, and prompts them to
SHARE
their faith with other people.
Our desire is to form a strong connection between what is taught, learned, and practiced on Sunday morning and what is then carried throughout our communities each and every day. It is all about staying connected to Jesus as we connect with others! Join us on Sundays, during the school year, from 9:30am until 10:30am for Christ Connections!
All students age three through high school are welcome! Students will be grouped together with others close to their own age and then participate in a weekly group introduction of the Bible topic, followed by a project, a lesson, and some group discussion time. It is designed to be an active, fun, and productive time of learning, living, and sharing Christ. Contact
Dave Wright
with questions at 882-8665.