Learn, Live, Share… Christ!
Our Savior Lutheran Church and School exists so that you can Learn, Live, and Share Christ. We are a gathering of Jesus followers that has been called by God to make disciples of all nations. We are gathered by the presence of Jesus in the Means of Grace in weekly worship, and sent by the Spirit of Jesus to love and serve our world.
We fulfill this mission through 5 distinct practices. These are the core elements of our ministry.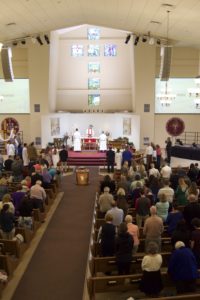 Remarkable Worship
Relevant preaching & teaching, faithful to the Scriptures, doctrinally sound and personally relevant
Services: Traditional Worship – Contemporary Worship – Advent Worship – Lent Worship – Summer Worship
Excellence in music ministry, incorporating the best of the past with fresh and new expressions of praise, involving various gifts and talents, and distinctly Lutheran with a focus on the Gospel and the Means of Grace.
Music Ministry: Adult Choir, Praise Band, Handbell Choir, Instrumentalists, Hymn Festival. See our Music Ministry page for a full listing.
Intentional Discipleship
We are students of the Scriptures, growing in our understanding of the Bible as God's Word for us today, and striving to put our faith in action as convicted Christians empowered by the Holy Spirit
Bible Studies: See our Bible Studies page for a full listing.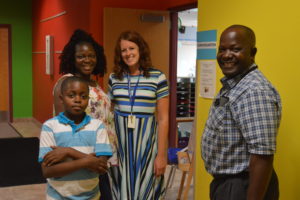 Christian Education
We support a vibrant and growing Lutheran School as a central ministry of our congregation, raising up the next generation of Jesus followers and sharing Christ with kids and families in our congregation in our community.
School Ministry, Early Childhood, Summer Camp, and Christian Athletics. See our School Page.
Family-Focus
We seek to be a home-centered / church-supported ministry that emphasizes the home as the primary place for faith formation. We focus on Family Life ministries that foster healthy relationships, strengthen parents as teachers of the faith, and provide intergenerational opportunities for all ages and seasons of life to grow in faith together.
Milestone Ministry, Confirmation Ministry, Devotional Resources, Parent Resources, Marriage Ministry. See the links for each ministry.
Missional Living
We are Joining Jesus on His Mission and inviting others to "come and see" (John 1:46) the Savior. We seek to do good in the neighborhood and serve our local community and beyond with the love and compassion of Christ, so that others can experience the love of Jesus as we make disciples of all nations.
Missional Living Events & Resources, Hmong Ministry, Friendship House MSU, South Africa Missions. Click on the links above to see what these ministries are up to!