Our Savior Food Bank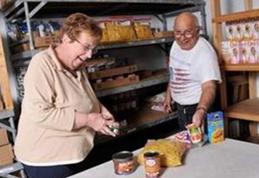 Did you know that in Ingham County there are almost 45,000 Individuals, 11,680 being children, who are food-insecure? The Food Bank averages about 900 people served per month, and is one of the few food banks/pantries in Ingham County that also supplies personal care items, clothing and toys for those who desire them.
Our Savior Food Bank is a food pantry for the Greater Lansing Food Bank
and is managed by director, Sharon Miller, and many volunteers. Our ministry is to dispense one week's supply of food per month to people in need.
There is indeed a great need for this ministry. Non-perishable food items as well as personal care items, clothes, household items, toys and books can be dropped off in the church lobby at the donation station near the nursery. If you would like to volunteer or are in need of food, please email the
Food Bank
.