This page contains ministry opportunities at Our Savior Lutheran Church and School in 2021 as we continue to gather in new ways around the Word of God. May the Lord guide each of us to a greater faith and trust in Him as we learn, live and share Christ together.
We invite you to:
Worship Faithfully
"Honor the Sabbath Day by keeping it holy" – We honor the Lord and His Word through weekly worship with the body of Christ. Worship in person or online Sunday mornings at 8:30 (traditional) or 10:30 (contemporary). Monday night worship will resume at 7 p.m. on June 21 in-person only, with communion every week throughout the summer.
Study the Word
"If you continue in my word, you are truly my disciples…" – We grow closer to Christ by spending time in the Word of God. Choose a Bible reading plan to help with regular Bible reading, and join a Bible study online or in person. Past Bible Studies can be viewed on our YouTube Channel. Find Bible resources under Faith Resources on our website.
Be in a Small Group – or Smaller Group
"As iron sharpens iron, so one person sharpens another" – We "disciple" each other as we discuss and encourage each other in applying God's word to our lives. Small Groups continue to meet, and you can also join a smaller group – a huddle (4-6 people) or a triad (3 people) for a six week discussion of discipleship. Small Groups (and smaller groups) help us build relationships, encourage
each other, and care for one another as the body of Christ.
Bible Study Opportunities in 2022
Women's Bible Study
Join Us Tuesday Evenings, 7–8pm, beginning January 11th, 2022 (ends: March 1st, 2022). "Be Still and Know: A Study of Rest and Refuge" by Deb Burma, unpacks the promises found in Psalm 46 that are fulfilled in Christ. The first session looks at Psalm 46 in detail and examines storms of life. Then, in the following seven sessions, study narratives from the Gospels as Jesus meets various women who are experiencing their own storms and explore the perspective of each woman as He provides refuge, strength, help, and hope. Looking to the biblical and cultural contexts will allow you to better grasp the depth of Christ's care, purpose, and attention to every need. In the midst of today's storms, may God reveal His refuge for us in Christ, the one who has overcome the world. Any questions please contact Candice Barr at barr.candicej@gmail.com or 517-755-9615 or Tina Ferris at trferris26@gmail.com or 517-230-3051. Please register by January 4th. Please note, books are NOT provided but can be purchased online.
Wednesday Bible Study – Join us in person or online via Our Savior YouTube channel at 11am each Wednesday. Contact Pastor Wangelin for more information.
Friday Morning Men's Breakfast – Every 1st, 3rd, and 5th Friday, 6:30 a.m. Contact Dave Wright for more information.
High School Youth Group – high school students are invited for a weekly socially-distanced, gathering at Our Savior with youth director Mark List on Thursdays at 7.
Milestone Ministries – equipping families for faith training at important moments. See the Milestone page for more information.
Resources for Small Groups and Smaller Groups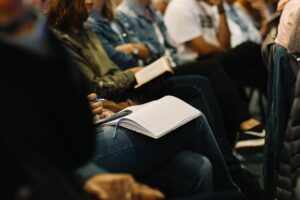 Small Groups – Contact Dave Wright if you would like to lead or join a small group (8-12 people that meet regularly for Bible Study, prayer, and encouragement).
Huddles – gather a smaller group of 4-6 people to meet at a home, public place, or online, to discuss the Discipleship Questions for six weeks at a time, as we disciple each other in faith and life.
Triads – find two others of the same gender for an even smaller group to meet at a home, public place, or online, to discuss the Discipleship Questions for six weeks at a time, mentor each other, and build each other up.
Sermon Discussion Guide – this resource is produced weekly, and provides questions on the sermon topic for each Sunday. This can be used by couples, families, and especially small groups. This will be posted weekly on our website.
Discipleship Questions – this six week resource will provide discussion questions on Christian living topics that help us disciple, encourage, and challenge each other in our walk with Christ. This is posted on our website.