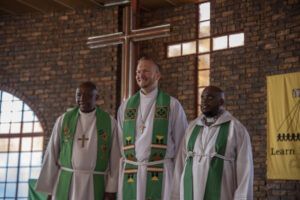 Worship at St. Peter Confessional Lutheran Church, Mhluzi (Middelburg), South Africa
By Kathy Davenport
Our worship service on June 25 with our brothers and sisters of South Africa was so uplifting! It was amazing to see how, from the very start, even as people filled the seats and pews, praises were already being sung by leaders and those gathering. Singing, clapping, even some dancing coupled with warm smiles and greetings. The setting was simple, not fancy seating or ornate carvings about. Their singing was accompanied only by drums and an electric keyboard. When the power went out in the middle of the service, the keyboard wasn't working, but the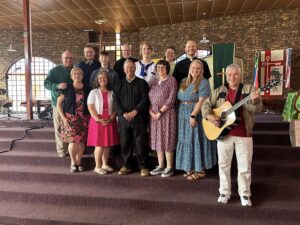 worshippers and leadership continued on without missing a beat! We were blessed as the liturgy and even transitions
between parts of the service were all done in song. The youth, about 14 of them, came up to dance and sing a couple
songs. The elderly women's choir sang, too. Pastor Khumalo's wife, Lindiwe, was among them and was the song leader. We enjoyed noting that most of those choir members followed words in print, but Lindiwe use her phone! The OSL Mission team joined in with familiar songs and we sang two songs we had prepared to share before the congregation. They enjoyed our praises and one of the church board members later told us, "Next time 5 songs, not just 2!!"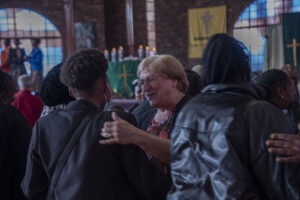 The service was extra special because Bishop Tswaedi was reinstating music leadership to unify the congregation and give them direction. He also commissioned two church planters to grow the Kingdom of God in their area. Pastor Wangelin preached the sermon and included some Zulu sentences which brought them joy and encouraged fellowship between us. Another highlight was seeing the gifted stained glass window that OSL presented to Pastor Mandhlo Khumalo before he left the U.S. in the entrance to the church and the previously given yellow, "Learn, Live, Share Christ" banner displayed near the altar. The team had brought two new banners to present to the congregation, which we presented during the service to Lindiwe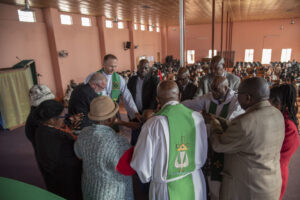 Khumalo. One stated, "The Lord is My Shepherd" and the other, "Praise the Lord of All Nations!" They also had an awesome close to worship with praises being sung while the youth danced a Congo line out of the church!! During the worship service while we were singing together, I couldn't help but picture how majestic, loud, and joyful Heaven will sound as all nations and every language will be in praise together for our victorious Jesus! What a bond we have with God's family in the world, through His Word, His Grace, and song. Truly, to God be the Glory!
Jesus Party…in South Africa
By: Ryan Couser
Dear Our Savior Family, This is Ryan Couser and I had the privilege to be a part of the 2023 South Africa Mission Team. One of the memories I would like to tell you about is the day we spent at Doornkop, helping Mama Grace with her feeding Scheme. Although we think of the word scheme as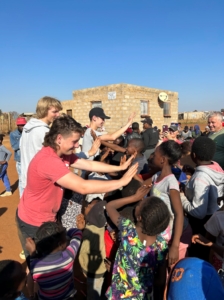 a bad outcome, they use the word scheme acting as a charity. Mama Grace has been blessing these children with meals while the students are on their winter break. She does a lot of work making these meals feeding 50 plus children. Our team was able to bless her with food supplies for 3 months and she was very grateful. While half of our team was helping prepare the food with Mama Grace, the rest of us led the children in songs, games, and bible stories. I recall teaching them the story of David and Goliath and the boy portraying David was very into the story using his imaginary slingshot.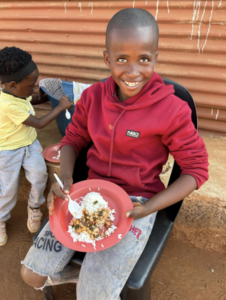 We spent a long couple hours in Doornkop because we were busy playing frisbee, 4 square, soccer, and playing with jump ropes. Once the food was ready we had the kids line up and get their food of rice with a type of stew on top. Even after their meal they wanted to play with us some more which was cool to see. I liked the way we ended the day because we sang a couple more songs and prayed a prayer of blessing over the families, Mama Grace and this food ministry. My final memory I will never forget was after our closing, Ben, Alexander, and I started giving high fives to the children, and they wanted so many high fives I probably did the same kid five times. This day's visit was very moving and was a great demonstration of the work God is doing, building up the kingdom all the way in Doornkop, South Africa.