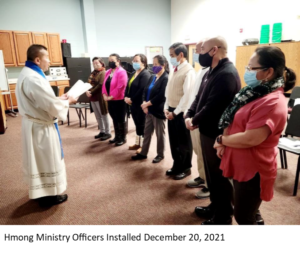 At our congregation meeting on Sunday, the congregation will be asked to assist Pastor Yang in continuing our Hmong ministry
at Our Savior by issuing a divine call to continue his service at Our Savior. Here is some background to this request.
In 1978, Our Savior Lutheran began welcoming Hmong refugees to the US, helping them find housing, jobs, and a new life in the land of opportunity. They also shared Christ with them and welcomed them into our church and school community. For nearly 45 years, OSL has supported a Hmong worship service, led by Hmong LCMS pastors. We have 78 Hmong members of our congregation as of 2022. Our current Hmong pastor, Rev. Lang Yang, has been with us since serving as a vicar for Hmong ministry in 2004. You can learn more about the Hmong Ministry on our website.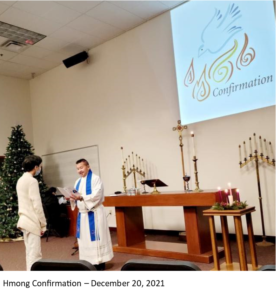 Pastor Yang has been supported by three separate entities – St. Michael Lutheran Church in Richville, MI (where Pastor Yang has his residence and primary office), Our Savior Lutheran Church in Lansing, and the LCMS Michigan District in Ann Arbor. Pastor Yang's
duties have been divided among those three entities, as he served the Hmong congregation in Richville, the Hmong congregation in Lansing, and the Hmong communities nationwide through the Hmong Mission Society, a mission supported by the Michigan District.
Due to dwindling numbers of Hmong families near Richville, this ministry is shutting down. St. Michael's Richville will no longer be supporting their portion of Pastor Yang's support. In order to fill that third portion, Pastor Yang has been training as an army chaplain and got certification in clinical pastoral education. He is looking for a part-time job as a chaplain to replace the third portion of income that had been from St. Michael's.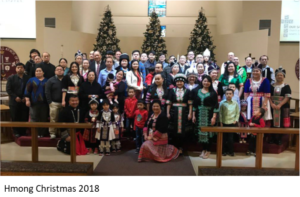 St. Michael's is the church that originally "called"
Pastor Yang, as every pastor needs to have a call from somewhere to serve in ministry.
Since St. Michael's is no longer continuing their Hmong Ministry, Pastor Yang can now be "called" by Our Savior so that he can continue serving us. The call to Pastor Yang does not change his duties, hours, or support from Our Savior, and his residence will continue to be in Richville near his family.
The Hmong Ministry at Our Savior, Lansing, remains a viable and growing ministry. Prior to the pandemic, 50-60 people would gather for Hmong worship, with a monthly potluck, choir, youth group, and children's ministries. Over the years, a number of Hmong people have been baptized and confirmed in the Christian faith, and in 2019 the Hmong welcomed a new family from Thailand to the US, much like the original efforts in 1978. During the pandemic, although numbers have dwindled (as they have everywhere) there have still been baptisms, confirmations, and congregation leaders have been installed for the coming year. They hope to resume potluck dinners in the spring and Egg Roll Sunday will resume in April.
Extending a divine call to any church worker is something that only the congregation can do in a voter's assembly. Since this call changes neither Pastor Yang's duties, hours, or support, it is more of a behind-the-scenes action, but in effect allows us to give thanks and praise to God for the ministry of Rev. Dr. Lang Yang and the Hmong members of our congregation.