Easter Devotion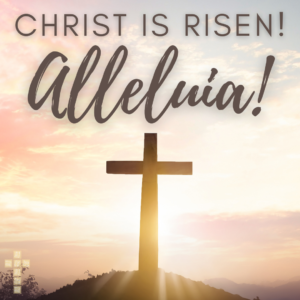 Gather your family and friends together for this Easter devotion. Take some time to read the scripture, the reflection, and ask the question after each section.
Alleluia! Christ is risen! He is risen indeed! Alleluia!
As we celebrate Easter, we are reminded that Jesus is no longer in the tomb! He is risen indeed! This is the greatest news ever.
Christ was laid in the tomb on Friday, but death could not conquer our Lord who is victorious over sin, death, and Satan. That changes everything: our past, present, and future,
and we are granted new life.
"We know that our old self was crucified with him in order that the body of sin might be brought to nothing, so that we would no longer be enslaved to sin."

–Romans 6:6
We were once enslaved to sin, but through the death and resurrection of Jesus we are no longer held in that past. We no longer live as we used to, held down by our own sinful ways. Our sins were taken to the cross by Christ and He has forgiven us. The past is no longer what defines us. We are defined by the cross of Christ, which sets us free, and makes us heirs to the kingdom of God.
Have a few people at your gathering share: How does being made new through the death and resurrection of Jesus shape how you live?
Future
"He has caused us to be born again to a living hope…to an inheritance that is imperishable, undefiled, and unfading, kept in heaven for you."
–1 Peter 3:3-4
We have been given an inheritance that cannot be measured. On the cross, Christ won for us eternal life. Through that death and resurrection we are made heirs with Christ to the heavenly kingdom! While we are new creations here on earth, we can be certain that our eternal life has been won for us.
Take some time, and ask this question: How does the resurrection of Jesus give you hope and joy?
Prayer
Share prayer requests with each other and also pray for those who are not able to be with you.
Let us pray: Almighty God, we thank you for sending your Son, our Savior, Jesus into this world, in order that we might be saved from sin, death, and the devil. Give us hearts of hope and joy to share your light into this world. Remind us that we are no longer enslaved to sin, but we are freed by the sacrifice that Jesus made for us. Amen.
He is not here; He has risen!
-Luke 24:6