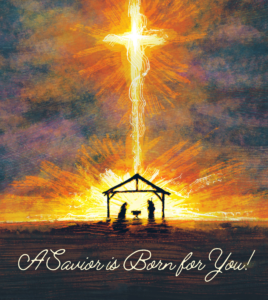 Gather your family and friends together for this Christmas devotion. Take some time to read the scripture, the reflection, and ask the question after each section.
"Do not be afraid, Mary; you have found favor with God. You will conceive and give birth to a son, and you are to call him Jesus." – Luke 1:30-31
This Christmas season, we remember the true reason for the season, Jesus. Not the toys and shopping, not the carols and eggnog, but Jesus. Jesus, Our Lord and Savior who humbled himself to be born of a virgin. As we look to the nativity scene of Jesus birth, we take a look at Mary, Jesus, and the shepherds.
While this was a strange visit from an angel, Mary's response in Luke 1:38, "I am the Lord's servant," was one showing she trusted in God. While it may always seem strange how the Messiah, the promised one, Jesus came into this earth, we thank God for His work through Mary.
Ponder this question together; in what ways can we be 'servants of the Lord', to those around us?
Jesus
"She will give birth to a son, and you are to give him the name Jesus, because he will save his people from their sins." – Matthew 1:21
The name Jesus, literally means Savior, or the one who saves. Jesus came into this world to do just that, save us from our sins. Jesus, the Son of God, took on human flesh to save us. Not only was he true man, but also still true God. Jesus, as true God, humbled himself to take on human flesh, to be the ultimate sacrifice for the sins of all.
Go around to a few people at your gathering and ask this question: Why is Jesus the reason for the season?
Angels & Shepherds
"And there were shepherds living out in the fields nearby, keeping watch over their flocks at night." – Luke 2:8
The lowly shepherds. Common folk. Normal guys. These were the first ones that the angels proclaimed the good news to. Not to the royalty, not to the chief priests and scribes, but the shepherds. The birth of the Christ child, Jesus, is announced to a group of shepherds, regular people, who were just going about their daily life.
Take some time, and ask this question: What peace does it give that the angels proclaimed the birth of Christ to the shepherds first?
Prayer
Let us pray: Heavenly Father, you sent your Son Jesus into this world for all people. All races, all nations, every class, rich, poor, and we thank you for sending Jesus. Give us hearts of hope, peace, joy, and love this Christmas season. Amen.
Take some time and share prayer requests, and any way that you can be praying for all of those gathered with you, or those who are not able to be with you as well.
Dessert question:
How have you seen God working in your life this past year?