This page contains ministry opportunities at Our Savior Lutheran Church and School in 2021 as we continue to gather in new ways around the Word of God. May the Lord guide each of us to a greater faith and trust in Him as we learn, live and share Christ together.
We invite you to:
Worship Faithfully
"Honor the Sabbath Day by keeping it holy" – We honor the Lord and His Word through weekly worship with the body of Christ. Worship in person or online Sunday mornings at 8:30 (traditional) or 10:30 (contemporary). Monday night worship will resume at 7 p.m. on January 4 in-person only, following the Sunday communion schedule. (no Monday night services during Lent – Ash Wednesday is February 17)
Study the Word
"If you continue in my word, you are truly my disciples…" – We grow closer to Christ by spending time in the Word of God. Choose a Bible reading plan to help with regular Bible reading, and join a Bible study online or in person. Wednesday Bible Study resumes January 6 at 11 a.m., in-person and online, studying the book of Revelation. Other online studies include 1 Peter and the Exodus. Find Bible resources under Faith Resources on our website.
Be in a Small Group – or Smaller Group
"As iron sharpens iron, so one person sharpens another" – We "disciple" each other as we discuss and encourage each other in applying God's word to our lives. Small Groups continue to meet, and you can also join a smaller group – a huddle (4-6 people) or a triad (3 people) for a six week discussion of discipleship. Small Groups (and smaller groups) help us build relationships, encourage each other, and care for one another as the body of Christ.
Bible Study Opportunities in 2021
Bible Read-a-thon – starts January 1. Let's read through the Bible together. Each time you finish a book of the Bible, submit your name, which book you finished, and the date you completed it. Totals will be shared weekly.
Wednesday Bible Study – resumes January 6, 11 a.m. studying the book of Revelation. Join us in the sanctuary with health protocols as in worship, or online via Our Savior Live Stream. Contact Pastor Wangelin for more information.
Monday Women's Bible Study – begins January 4, at 7:30 p.m. via Zoom studying Song of Songs.
Contact Family Life Intern
Lexie Brown for more information
Men of Courage Study – The NEW Small Catechism, via Zoom with Steins! Thursdays in January, March, and May. Contact Dave Wright for more information.
Friday Morning Men's Breakfast – Every 1st, 3rd, and 5th Friday, 6:30 a.m. **Currently meeting via Zoom Contact Dave Wright for more information.
High School Youth Group – high school students are invited for a weekly socially-distanced, gathering at Our Savior with youth director Mark List on Thursdays, resuming in-person January 14, 7-8:30 p.m.
Milestone Ministries – equipping families for faith training at important moments. Spring milestone classes include 1st Grade Bible, 3rd Grade Money Management, First Communion, etc. See the Milestone page for more information.
Christ Connections Online – watch for monthly special "episodes" of online Christ Connections, similar to our digital VBS, to engage kids and families in faith and God's word.
PSI Confirmation – Public school students in grades 7 & 8 and their parents will resume walking through the Scriptures in-person and via Zoom, Sundays at 11:30, starting January 24.
Resources for Small Groups and Smaller Groups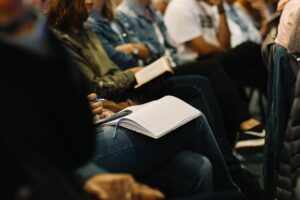 Small Groups – Contact Dave Wright if you would like to lead or join a small group (8-12 people that meet regularly for Bible Study, prayer, and encouragement).
Huddles – NEW! – gather a smaller group of 4-6 people to meet at a home, public place, or online, to discuss the Discipleship Questions for six weeks at a time, as we disciple each other in faith and life.
Triads – NEW! – find two others of the same gender for an even smaller group to meet at a home, public place, or online, to discuss the Discipleship Questions for six weeks at a time, mentor each other, and build each other up.
Sermon Discussion Guide – this resource is produced weekly, and provides questions on the sermon topic for each Sunday. This can be used by couples, families, and especially small groups. This will be posted weekly on our website.
Discipleship Questions – this six week resource will provide discussion questions on Christian living topics that help us disciple, encourage, and challenge each other in our walk with Christ. This is posted on our website.