Miraculous Mission
Jesus Saves the World
Monday – Thursday ~ July 15-18, 2019
6:30-8:00pm
Join us for an exciting Vacation Bible School!
Join us to explore God's Miraculous Mission as we learn about his plan of salvation from creation to the cross.
Monday: God Made the Universe
Tuesday: Jesus the Savior is Born
Wednesday: Jesus the Savior is Risen
Thursday: Jesus the Savior Reigns
VBS is open to all children age 3 (potty trained)
through completed 5th grade.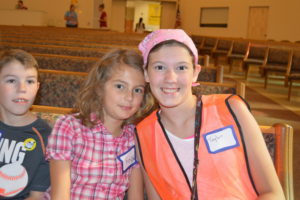 VBS NEEDS YOU!
We are in need of about 30 more volunteers to help make VBS a fun and safe place for kids. This is a really fun way to serve kids, share the love of Jesus, and meet others from our church family. Anyone entering 7th grade through adulthood can find a place to help at VBS. Volunteers may register by clicking on the "register" button above.