Message of Hope Scholarship Fund
Your donation will make a difference by bringing
Christian Education within reach.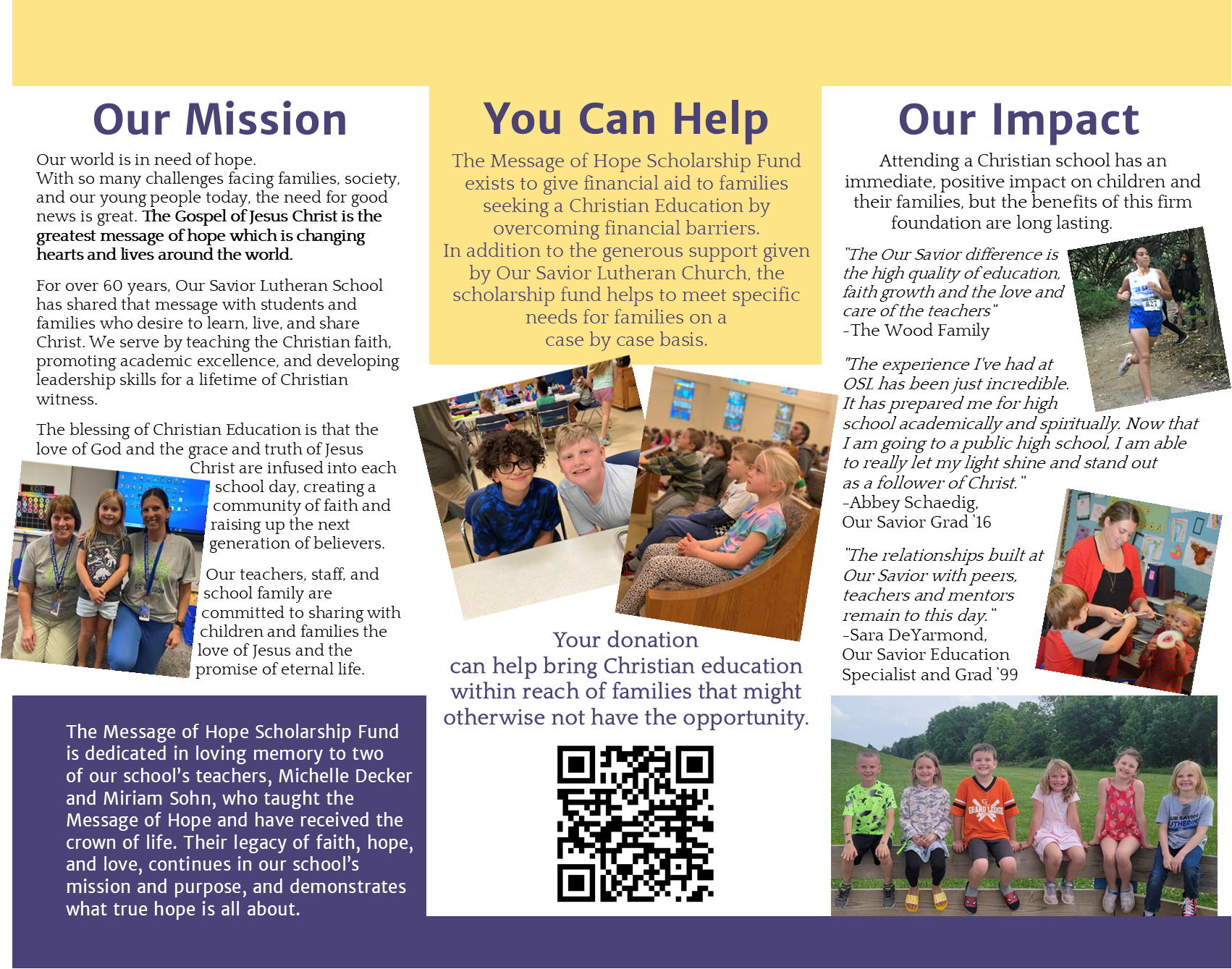 Our Message of Hope Scholarship Fund is dedicated in loving memory to two of our school's teachers who taught the Message of Hope and have received the crown of life. Their legacy of faith, hope, and love, continues in our school's mission and purpose, and demonstrates what true hope is all about.
Michelle Decker (1969-2017)
The Message of Hope was taught and believed by Michelle Decker at Our Savior Lutheran School from 2013 – 2017. She taught math and language arts for Middle School grades, instilling in students a love of learning, language, and writing. With unbridled enthusiasm and unstoppable optimism, Michelle made learning fun and engaging for each student. In all of it, she let her faith in Christ shine. She was very outspoken about her trust in God and her confidence in Christ's love, and she deeply desired to share that faith and love with her students.
Michelle's faith, trust, and hope in Christ were magnified when she was diagnosed with breast cancer in August, 2016. For the following 8 months, she endured radiation and chemo treatments on the weekends, adamant about teaching her students during the week. Her encouragement came through teaching, the love and support of her husband Chris and daughter Bailey, and the prayers of God's people. Through her trials and struggles, she shared with her students and colleagues her confidence in the Lord, and reminded each of us that "God's got this."
Although Michelle's health declined dramatically in March 2017, and she was called home to heaven on June 15, 2017, the message of hope that she taught stands firm. Jesus said, "I am the resurrection and the life. Whoever believes in Me will live, even though he dies, and whoever lives and believes in Me will never die." (John 11:25) Many students attended her memorial service at Our Savior where her pastor, Rev. Tony Sikora, reminded everyone that "God's got this," and that we have the hope of eternal life in Christ.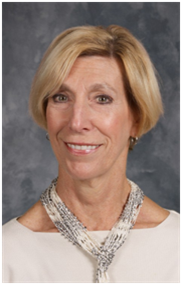 Miriam Sohn(1951-2016)
Miriam shared the Message of Hope and love of Jesus as a Lutheran School teacher for 33 years. She taught at St. Peter (St. Peter, IL), St. Matthew (Walled Lake, MI), and First Lutheran (Charlotte, MI), before coming to Our Savior Lutheran School where she taught for 23 years.
Especially when it came to sharing Jesus with young children, Miriam had a special gift. She is remembered for her great sense of humor, her warmth and positive attitude, and devoted care to family and students. Her support for Lutheran Education went beyond the classroom and included serving on the LCMS Michigan District Early Childhood Board, volunteering for the Lutheran Adult Gathering in Mackinac, and involvement in her congregation. Her children, Katie, Karen, and Andy Sohn, attended Our Savior Lutheran School, as well as Miriam's grandchildren, Ryan, Micah, and Ella Couser. Miriam retired from Our Savior in 2014.
During her courageous battle with ALS, Miriam held onto her hope in Christ, looking at ALS as 'Always Loving the Savior.' On December 22, 2016, the Lord called Miriam to His heavenly presence, where she now stands with the saints in light, awaiting the Day of Resurrection and our joyful reunion with fellow believers in Christ.
The sermon text she chose for her memorial service was also her wedding text, from Jude 20-21. She believed it spoke to believers, non-Christians, and those who were struggling, about the Message of Hope we have in Christ: "
But you, dear friends, build yourselves up in your most holy faith and pray in the Holy Spirit. Keep yourselves in God's love as you wait for the mercy of our Lord Jesus Christ to bring you to eternal life."